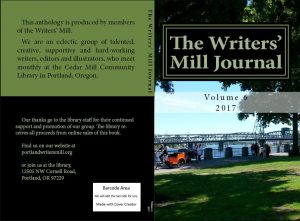 The journal is ready for editing. The following members have volunteered to be your editors this year and have received their assignments. Be sure to reply to any emails from them, and to thank them for working so hard on your behalf. 
Editors:
Carolyn Adams, Richard Bach, Judy Beaston, Sheila Deeth, Jean Harkin, Karin Krafft, Robin Layne, Joe and Carol Ann Mendez, and Zaferia Russell
Contents list follows, with credits for illustrations. If you believe something is missing or listed incorrectly, email journal2017 at portlandwritersmill dot org and let us know.
And thank you all for making this a really great journal.
MEMORIES,  Minnie and Roseanna from the Writers' Mill group photograph 2015 photographed by Amelia De Mello
WHERE by Sheila Deeth
REMEMBERING ROSEANNA by Robin Layne,  Footprints photographed by Carolyn Adams
IN SILENCE by Susan Apurado, Photograph by Susan Aprurado
FOR MINNIE by Mary Jane Erickson, Image will be supplied by Robin Layne
MIGHTY MINNIE IS MISSED by Robin Layne,  Image will be supplied by Robin Layne
ART, MUSIC AND MORE,  Pastoral, painting by Karen Alexander-Brown
LISA'S PORTRAIT by Judy Beaston,  Head over Heels photo by Jean Harkin
SOMETHING GOOD WORTH LIVIN' by Susan Apurado, Something Good photographed by Susan Apurado
ME AND MY SHADOW by Robin Layne,
KITKIT'S PICTURE BOX by Sheila Deeth, Purrington's Cat photographed by Jean Harkin
SLAVE by Robin Layne,  Image will be provided by author, Robin Layne
NIGHTHAWKS by Karin Krafft, Diner Window in Winter photographed by Sheila Deeth
LIFE CHANGES by Susan Apurado, Painting by Susan Apurado
MY PEACOCK by Robin Layne,  Peacock photographed by Jean Harkin
HUMOR, Mufasa in the Sink photographed by Judy Beaston
FOR ART'S SAKE by Richard Bach, Photo by author is not Art's Sake—it's the contest award given to him for this piece of writing.
SEVENTEEN SPIDERS by Zaferia Russell
UNMENTIONABLE TERM by Lauri Leonetti, Ring photographed by Carolyn Adams
WHAT GOOGLE DIDN'T KNOW by Sheila Deeth, Signs photographed by Jean Harkin
THE GRUDGE STORE by Richard Bach
TWO CHAIRS ON A BEACH, Chairs at Cannon Beach photographed by Jean Harkin
TWO CHAIRS AT SEASIDE by Jean Harkin,  Oregon Coast photographed by Steven Deeth
THE DUPRASS by Robin Layne,  Image to be supplied by Robin Layne or Sheila Deeth
EMPTY HEART by Judy Beaston, Depoe Bay photographed by Sheila Deeth
THE PACT by Karen Alexander-Brown,  Florence Beach photographed by Carolyn Adams
CHAPTER 1 by Zaferia Russell, Chair photographed by Carolyn Adams
DARK AND STORMY, Photographed by Judy Beaston
REFUGE by Karen Alexander-Brown, Dark Clouds photographed by Karen Alexander-Brown
AN EXTRAORDINARY DAY by Jessie Collins
IN WINTER'S HUSH by Carolyn Adams, Countless Beating Hearts photographed by Carolyn Adams
A DARK AND STORMY KNIGHT by Robin Layne, Image to be provided by author, Robin Layne
UMBRELLA GO ROUND by Lauri Leonetti
FULL MOON, My Moon photographed by Carolyn Adams
CAT ON THE MOON by Jean Harkin, Purrington's cat photographed by Jean Harkin
A YELLOW MOON ROSE by Carolyn Adams,  Montana Moon photographed by Louise Young
FIRST STEPS ON THE MOON by Jessie Collins
THE SERENADE OF A FULL MOON by Susan Apurado, Painting by Susan Apurado
THE WOLVES by Matthew McAyeal
DUSKING ON A LONE COAST by Carolyn Adams,  Full Moon photographed by Louise Young
FREEZE, FLEE OR FIGHT by David Lutes, Burma photographed by David Lutes
WATER, WATER EVERYWHERE, Behind Upper Horsetail Falls photographed by Carolyn Adams
MIRAGE by Karen Alexander-Brown,  Photographed by Karen Alexander-Brown
JETSAM by Sheila Deeth,  Cape Meares photographed by Carolyn Adams
SPLASHES OF CHILDHOOD by Judy Beaston
WATER, A MYSTERY… by Susan Apurado, Photographed by Susan Apurado
GENESIS by Carolyn Adams, Lower Horsetail Falls photographed by Carolyn Adams
UNDERCURRENT OF THE POND by Jean Harkin
THE LAST TIME I SAW…  , Landscape painted by Karen Alexander-Brown
AS IN IDENTICAL by Robin Layne, Dueling Twins painted by Robin Layne
TEDDY by Lauri Leonetti, Teddy photographed by Judy Beaston
THE LAST TIME I SAW FLOWERS by Sheila Deeth, Flowers photographed by Robin Layne
THE ARCHITECT by Karin Krafft,  Airport Scene photographed by Sheila Deeth
UNSPOKEN BONDS, Still Life With Lamp photographed by Carolyn Adams
ACROSS THE WALL by Matthew McAyeal
LOCAL HEADLINE by Lauri Leonetti,  Listen photographed by Carolyn Adams
SECRET LIVES by Robin Layne, Rosebud drawn by Robin Layne
SHE USED TO TALK TOO MUCH by Sheila Deeth
SIBLINGS by Jean Harkin , Siblings photographed by Jean Harkin
SOME ASSEMBLY REQUIRED by Richard Bach
A SONG OF ETERNAL FLAME by Susan Apurado, Painted by Susan Apurado
WONDER, Wonderful Friendship photographed by Judy Beaston
EARTH WONDER by Jean Harkin,  Photographed by Karen Alexander-Brown
THOUGHTS OF WONDER by Susan Apurado, Photographed by Susan Apurado
WONDER by Jessie Collins, Glenwood photographed by Carolyn Adams
WISE FELINE by Judy Beaston, Calico on the Walk photographed by Judy Beaston
MAP IN THE AIR by Carolyn Adams, Jade Waters painted by Karen Alexander-Brown
LEFT BEHIND by Sheila Deeth,  Heaven's In Here photographed by Carolyn Adams
IN AWE OF NATURE'S SPLENDOR by Judy Beaston, Grow, collage by Carolyn Adams
POINT OF VIEW,  Bedroom photographed by Carolyn Adams
HALO IN THE DARK by Karen Alexander-Brown, Photographed by Karen Alexander-Brown
POINTS OF VIEW ON A CAFÉ MEETING by Jean Harkin, Java Time photographed by Judy Beaston
UNTITLED by Susan Apurado, Summer Breezes photographed by Susan Apurado
DREAMS COME TRUE  by Joe Mendez,  Just Joey Rose photographed by Jean Harkin
VISITING GRANDMA by Jean Harkin, A Granddaughter's Joy photographed by Micah Harkin